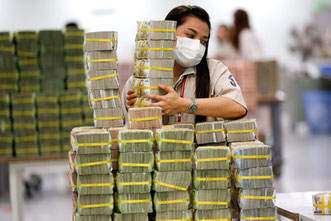 The Basel III standards of the Bank for International Settlements put no pressure on Thai banks but might make it less attractive for them to provide trade financing, Bank of Thailand Governor Prasarn Trairatvorakul said yesterday.
Thai banks' capital positions were well above Basel III minimum requirements, he told the Asian Banker Summit in Bangkok.
As of February, the capital adequacy of commercial banks - their capital reserves against assets at risk - averaged about 15 per cent. Basel III requires 8 per cent for total capital and 10.5 per cent for total capital plus a conservation buffer.
Tier-1 capital was about 11 per cent - Basel III requires 6 per cent for total capital, and 8.5 per cent for capital plus a conservation cushion.
After the Asian financial crisis of 1997, Asian banks are now well-capitalised and more liquid than their Western counterparts, said Chartsiri Sophonpanich, chairman of the Thai Bankers' Association and president of Bangkok Bank.
However, Basel III has some unintended consequences for Asia as it makes it less attractive for banks to provide trade financing, which is important for Asia's economic development, Prasarn said.
Basel III, which set higher levels of capital requirement and introduced a new global liquidity framework, will increase the cost of regulations for banks' customers, said Richard Kovacevich, former chairman and CEO of Wells Fargo.
The new Basel III capital rules as agreed on by global regulators will require banks to hold more and higher-quality capital.
"The key emphasis in Basel III is strengthening [their] capital base. I regard this as the second line of defence. The first line of defence is a good risk management system and strong governance," Prasarn said.
With many crises, banks have been challenged on many fronts and they have to regain the trust of the public.
Trust, the cornerstone of the financial industry, is not sufficient and it should be counter-balanced by a well-informed debate on risk management, supervision, good governance and the public empowered by financial literacy.
With the upcoming Asean Economic Community and Asean+6, trust in risk management and supervision could be boosted among countries in Asia.
"Asean economic integration has progressed steadily. The expected integration is expected to speed up trade in the region" with easier, cheaper, faster, and safer transactions, Prasarn said.
The simple banking model, which has served Asia well so far, may not be adequate to serve its future needs and having global standards could assist on this, he said.
Thailand aims to adopt the Basel III framework, which will strengthen banks' capital positions and risk management while preparing plans for the changes. These plans include the Financial Sector Master Plan, phase II for the banking sector, the capital market development plan, the payment road map, and the capital account liberalisation plan, which is undergoing industrial hearing.
The challenge is that the country needs to make the standards appropriate for itself, the governor added.
Source: http://www.nationmultimedia.com/